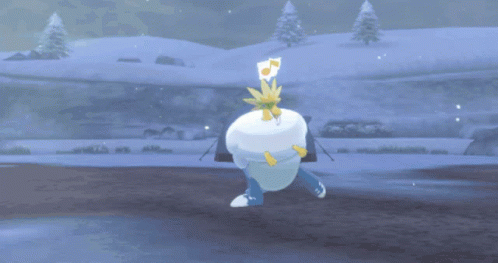 [OVERVIEW]
Arctozolt is the best hail sweeper in OU due to it's amazing STAB and Slush Rush-boosted Speed, letting it outspeed almost the entire unboosted metagame. This also lets it maximize Bolt Beak's power and spam perfectly accurate Blizzard to spam against Ground-types like Landorus-T and Garchomp, while also hitting specially weak Pokemon like Buzzwole and Kartana that would tank Bolt Beak. Low Kick is nice coverage against Steel-types like Magnezone that can take both Bolt Beak and Blizzard. Unfortunately, Arctozolt is extremely reliant on hail, as it is easily revenge killed outsped and KOed outside of it. Even when boosted, it is outsped by common Choice Scarf users like Kartana and Tapu Lele. It also has trouble pivoting in due to its mediocre defensive typing and bulk since it uses its HP to set up Substitutes.
[SET]
name: Hail Sweeper
move 1: Bolt Beak
move 2: Blizzard
move 3: Low Kick
move 4: Substitute / Freeze-Dry
item: Heavy-Duty Boots / Leftovers
ability: Slush Rush
nature: Naive
evs: 200 Atk / 76 SpA / 232 Spe
[SET COMMENTS]
With its Speed boosted by hail, Bolt Beak becomes incredibly powerful, breaking through many common Pokemon like Toxapex, Tapu Fini, Corviknight, Assault Vest Tornadus-T, and Urshifu-R. Blizzard is able to hit common Bolt Beak switch-ins like Landorus-T, Garchomp, and specially frail Pokemon like Buzzwole and Kartana. Low Kick is the best option against bulky Steel-types like Magnezone and Ferrothorn. Substitute eases up prediction for Arctozolt, letting it greatly dent and KO foes since they are forced to attack it, block status from defensive Pokemon, and prevent revenge killing attempts from Choice Scarf users like Tapu Lele and Kartana. Freeze-Dry is an alternative to nail Gastrodon and Swampert. Heavy-Duty Boots lets it pivot into the field without entry hazard damage, while Leftovers keeps it healthy throughout the match and set up more Substitutes at the cost of taking entry hazard damage. The EV spread lets Arctozolt 2HKO Hippowdon and Buzzwole with Blizzard and outspeed Choice Scarf Tapu Fini, with the rest going into Attack.
Since Arctozolt is only used on hail teams, Alolan Ninetales is a mandatory partner. Not only does it provide hail, but it also supports Arctozolt with Aurora Veil and give it switch-in opportunities with Encore. Corviknight and Landorus-T provide hazard control with Defog and can give Arctozolt free entry with their slow U-turns. Assault Vest Tornadus-T pivots into Dragapult, Choice Scarf Tapu Lele, and Blacephalon that are big threats to hail. It can also utilize an Ice-type Weather Ball to break through Landorus-T and Garchomp. Urshifu-R can pivot Arctozolt into its checks like Buzzwole and Tapu Fini while Urshifu breaks through Steel-types such as Ferrothorn and Melmetal for Arctozolt. Volcanion is a good offensive partner since it busts through Heatran and Victini with Arctozolt handling Dragapult and Dragonite. Heatran checks special attackers such as Tapu Lele and Dragapult outside of hail.
[CREDITS]
- Written by: [[avg, 524894]]
- Quality checked by: [[username1, userid1], [username2, userid2]
- Grammar checked by: [[username1, userid1], [username2, userid2]]
Last edited: